| | | | |
| --- | --- | --- | --- |
| Share price (28/9) | ¥1,071 | Dividend Yield (23/12 CE) | 3.08 % |
| 52weeks high/low | ¥1,098/800 | ROE(TTM) | 11.42 % |
| Avg Vol (3 month) | 39.0 thou shrs | Operating margin (TTM) | 11.44 % |
| Market Cap | ¥9.19 bn | Beta (5Y Monthly) | 0.56 |
| Enterprise Value | ¥21.08 bn | Shares Outstanding | 8.584 mn shrs |
| PER (23/12 CE) | 7.45 X | Listed market | TSE Standard |
| PBR (22/12 act) | 0.75 X | | |
Click here for the PDF version of this page
PDF Version
Sales went up by about 50%, and operating profit rose by 80%. Full-year forecasts revised up again, aiming for record-high sales and profits.
◇Summary of 2Q results for FY12/2023: Significant increase in sales and profit and upward revision of forecasts.
In the 2Q results for FY12/2023, Sansei Landic recorded a YoY increase of approximately 40% in sales of Leasehold land and an increase of more than 70% in Old unutilized properties. With operating profit increasing by 80%, the company's revenue and profit grew significantly. Following the announcement of the 1Q results, the company revised its full-year forecasts again. The company's inventories reached a new record high, as purchases remained strong, and real estate held for sale at the end of 2Q remained at a high level of 24.6 billion yen.
The dividend was revised from the initially planned 29 yen a share to 30 yen. The company plans to pay 33 a share at the end of the current financial year, including a special dividend of 3 yen instead of the abolition of the shareholder benefit plan.
◇ Share price: The share price has recovered to the 1,000 yen level for the first time in four years and nine months
The company's share price bottomed out at 800 yen on 16 January 2023 and recovered to 1,000 yen at the end of August. The share price reached its highest level since the beginning of the year. This results from investors increasing their confidence in the company's earnings, given two upward revisions, abundant inventories and the expectation of a strong property market. PBR has recovered to 0.73x. The company is expected to continue to perform strongly, and a PBR of 1x should come in sight.
◇ Financial results for 2Q FY12/2023: Sales exceeded 10 billion yen for the half year, and operating profit exceeded 1.6 billion yen, exceeding the revised forecast revealed at the 1Q result announcement.
Sales and profits significantly increased, with sales rising 46.7% YoY, to 11,980 million yen and operating profit growing by 81.4% to 1,656 million yen. Quarterly net income attributable to shareholders of the parent company rose 31.7% YoY to 939 million yen. The company's sales exceeded the revised forecasts at the 1Q results announcement, with sales of 11.5 billion yen, operating profit of 1.4 billion yen and quarterly net income attributable to owner of parent of 800 million yen. The 1Q results for the previous year included the construction business, which was sold afterwards. Excluding this business and comparing Real Estate Sales business alone on an apple-to-apple basis, sales increased by 50.8%.
Regarding sales performance by business segment, Leasehold land sales increased by 38.4%, while Old unutilized properties sales increased significantly by 73.3%, both exceeding the company estimates. The strong performance was due to the high level of purchases of both Leasehold land and Old unutilized properties and the build-up of inventories from the previous year's 3Q.
In the BS, properties for sale increased by 965 million yen to 24,623 million yen compared with the end of FY12/2022. Around 90% of these properties were purchased within the last two years and are scheduled to be sold in the current or next financial year or later. Interest-bearing debt increased by only 120 million yen from the end of the same period, as short-term borrowings increased by 2,005 million yen due to an increase in properties for sale, but long-term borrowings decreased by 2,488 million yen due to the sale of large properties. Total assets increased by 1,800 million yen to 30,777 million yen, while the equity ratio at the end of 2Q was 38.4%, up 0.3 percentage points YoY.
JPY, mn
Net sales
YoY
%
Oper.
profit
YoY
%
Ord.
profit
YoY
%
Profit
ATOP
YoY
%
EPS
(¥)
DPS
(¥)
2019/12
18,020
7.1
1,860
5.4
1,758
7.0
1,158
15.1
137.08
23.00
2020/12
17,774
-1.4
847
-54.5
709
-59.7
357
-69.1
42.34
25.00
2021/12
16,836
-5.3
1,117
31.9
999
40.9
609
70.5
73.56
26.00
2022/12
15,513
-7.7
1,469
31.5
1,283
28.4
1,060
73.9
129.61
28.00
2023/12 (Prev. CE)
20,500
32.0
1,700
15.7
1,400
9.1
900
-15.1
109.55
32.00
2023/12 (Revised CE)
23,500
51.3
2,150
46.3
1,800
40.2
1,180
11.3
143.44
33.00
2022/12 2Q
8,165
-10.4
913
32.5
832
31.9
713
77.2
86.67
0.00
2023/12 2Q
11,980
46.7
1,656
81.4
1,423
70.9
939
31.7
114.38
0.00
Quarterly sales and operating profit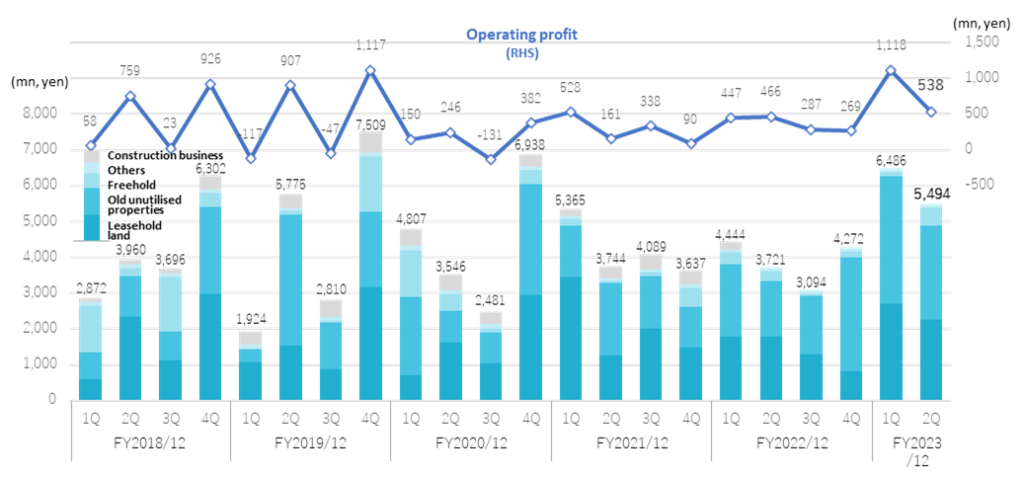 Source: Omega Investment from company materials
▶Real Estate Sales business trends
The company transferred all shares in One's Life Home Co Ltd, which operates a construction business, at the end of March 2022. Consequently, it runs a single segment of Real Estate Sales business from this fiscal year. Excluding the construction business in 1Q FY12/2022, sales increased by 50.8% YoY for Real Estate Sales business alone.
Leasehold land : Sales were 4,966 million yen (+38.4%). Sales of Leasehold land purchased last year have progressed, with sales up by approximately 40% YoY. The number of sales fell slightly by 168, or 1.8%, due to some large projects. Sales continued to be firm, mainly in the Tokyo metropolitan area.
Old unutilized properties: Sales recorded 6,204 million yen (+73.3%). Old unutilized properties have performed well, particularly in western Japan. In recent years, the company has been strengthening its sales structure outside the Tokyo metropolitan area, which has given it a strong competitive advantage, and the results are starting to emerge. There were 47 projects, a significant increase of 113.6%.
Freehold: Sales were 605 million yen (+4.2%). Sales rose YoY despite the company anticipating a decline. The number of transactions counted 10, a decrease of 9.1%.
▶Purchase of real estate for sales: Significant increase in purchases of Leasehold land, reaching a record high
Purchases in Real Estate Sales business increased by 9,136 million yen, or 29.2%, to more than 4 billion yen in 2Q, following a high quarterly level of more than 5 billion yen since 3Q FY12/2022. The breakdown is as follows: Leasehold land: 5,393 million yen (+124.9%), Old unutilized properties: 3,427 million yen (-18.3%), Freehold: 315 million yen (-34.2%). Old unutilized properties and Freehold properties were lower YoY, but Leasehold land sales increased significantly due to some large projects.

Source: company materials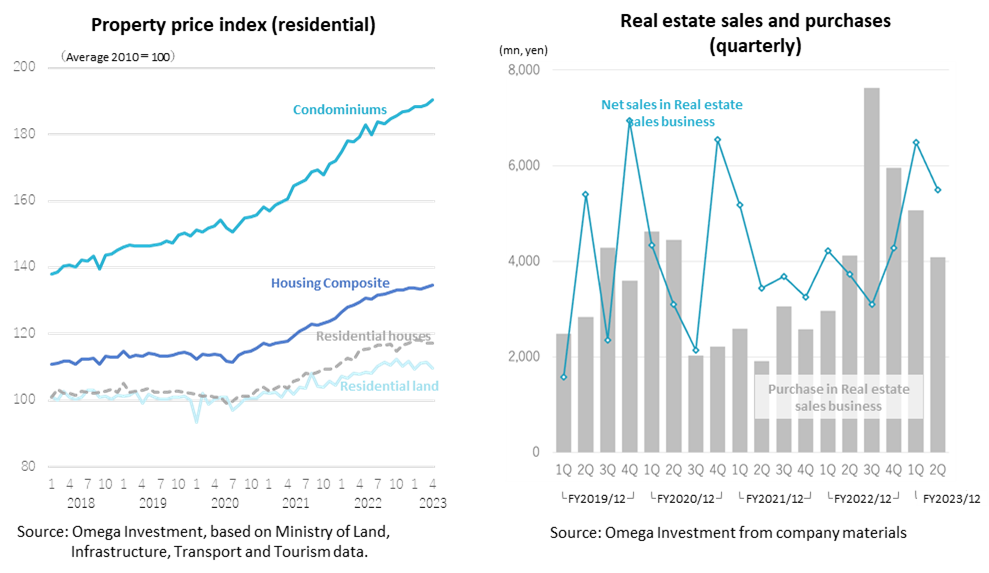 This is due to 1) the strong property market in recent years, 2) the expansion of large properties requiring a rights adjustment period of more than one-year managing risk, and 3) the success of the strategic area expansion, which has led to an increase in purchases not only in the metropolitan area but also nationwide.
The company continues to purchase properties from a cautious perspective and is building up its inventory, intending to sell them in the next fiscal year or later, with around 90% of properties purchased within the last two years scheduled for sale in the current or next fiscal year or later.
The above right-hand chart shows the trend of purchases and sales in the company's Real Estate Sales business: purchases remained low from 3Q FY12/2020 due to a slowdown in sales activities caused by COVID-19 but have been recovering since the start of FY12/2022. In particular, the company has significantly increased its real estate for sale since 3Q FY12/2022. The results will be reflected in the positive earnings to be announced this year.
◇ Forecasts for FY12/2023: To be revised up again.
With the 2Q result announcement, the company revised up to its FY12/2023 forecasts, the second upward revision since the 1Q earnings announcement. Compared to the previous estimates, the company's sales and operating profit forecasts were raised by 15% and 27%, respectively. Compared to the initial guidance, sales and operating profit were raised by 37% and 35%, respectively. The repeated upward revisions are attributable to the fact that in the Old unutilized properties business, the value of each transaction is large and affects sales depending on the timing of the recording of sales and that the company announces conservative forecasts because of this. The revised full-year forecasts call for a 51.3% YoY increase in sales and a 46.3% increase in operating profit, representing progress of 51% on sales and 77% on operating profit as of 2Q against the full-year forecasts. As mentioned, the company's real estate inventory has built up significantly, and given that the real estate market remains strong, there is potential for further upside to the earnings.
Upward revisions to FY12/2023 consolidated forecasts
| | | | | | |
| --- | --- | --- | --- | --- | --- |
| JPY, mn | Net sales | Oper. | Ord. | Profit | EPS |
| | | profit | profit | ATOP | (¥) |
| Initial forecast at FY12/2022 result call (A) (14 February 2023) | 17,119 | 1,594 | 1,305 | 836 | 102.68 |
| Previous forecast (B) (15 May 2023) | 20,500 | 1,700 | 1,400 | 900 | 109.55 |
| Revised forecast (C) | 23,500 | 2,150 | 1,800 | 1,180 | 143.44 |
| Change (C – B) | 3,000 | 450 | 400 | 280 | – |
| Percentage change (C/B,%) | +14.6 | +26.5 | +28.6 | +31.1 | – |
| Change (C – A) | 6,381 | 556 | 495 | 344 | – |
| Percentage change (C/A,%) | +37.3 | +34.9 | +37.9 | +41.1 | – |
| FY12/2022 actual | 15,533 | 1,469 | 1,283 | 1,060 | 129.61 |
| Revised forecast, YoY (%) | 51.3 | 46.3 | 40.2 | 11.3 | – |
| Progress ratio as at 2Q (%) | 51.0 | 77.0 | 79.1 | 79.6 | – |
Source: Omega Investment from company materials
◇ Share price: The share price has recovered to above 1,000 yen level. Further upside is expected.
The share price regained momentum following strong 2Q results and an upward revision to the full-year forecast, closing at 1,082 yen on 4 September, marking the highest price YTD. As mentioned above, there is further upside to the earnings in the current financial year, and given that the real estate market will likely remain solid into the next financial year and the company's real estate inventories are high, there appears to be further upside to the share price.
Price to book has also recovered to above 0.7x following the rising share price and has recently exceeded 0.70x, the average for the past five years. However, given the company's unique business model and earnings opportunity, it is still cheap. The company has stated that improving its PBR is a vital management issue and is considering concrete measures to address it. The company plans to announce specific measures to realise the cost of capital and share price conscious management by the time the full-year result announcement. The share price should be revalued further if the company progresses on concrete measures to realise sustainable profit growth.
5-year stock price move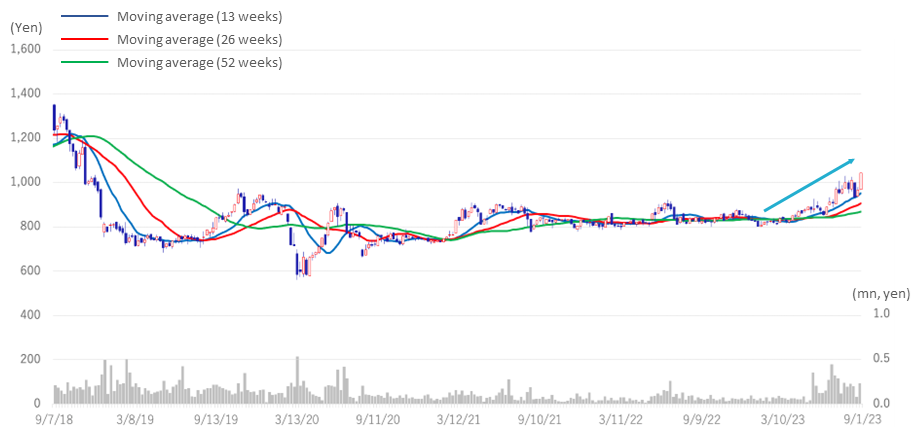 Historical PBR (last five years)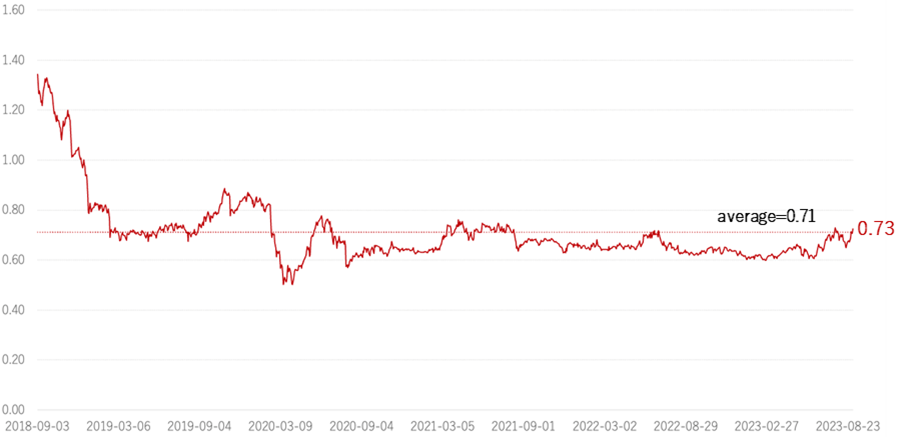 Financial data (quarterly)
FY (¥mn)
2020/12
2021/12
2022/12
2023/12
1Q
2Q
3Q
4Q
1Q
2Q
3Q
4Q
1Q
2Q
3Q
4Q
1Q
2Q
[Sales by segment]
Net sales
4,807
3,546
2,481
6,938
5,365
3,744
4,089
3,637
4,444
3,721
3,094
4,272
6,486
5,494
 Year-on-year basis
149.7%
-38.6%
-11.7%
-7.6%
11.6%
5.6%
64.8%
-47.6%
-17.2%
-0.6%
-24.3%
17.4%
45.9%
47.6%
 Real estate sales business
4,339
3,092
2,137
6,543
5,171
3,434
3,679
3,244
4,222
3,721
3,094
4,272
6,486
5,494
  Year-on-year basis
175.3%
-42.7%
-9.2%
-5.7%
19.2%
11.1%
72.1%
-50.4%
-18.3%
8.3%
-15.9%
31.7%
53.6%
50.8%
  Sales composition ratio
90.3%
87.2%
86.2%
94.3%
96.4%
91.7%
90.0%
89.2%
95.0%
100.0%
100.0%
100.0%
100.0%
100.0%
  Leasehold land
719
1,613
1,044
2,950
3,464
1,267
2,003
1,474
1,793
1,794
1,284
832
2,707
2,259
   Year-on-year basis
-33.8%
4.3%
17.4%
-7.1%
381.4%
-21.5%
91.9%
-50.0%
-48.2%
41.6%
-35.9%
-43.6%
51.0%
25.9%
   Sales composition ratio
15.0%
45.5%
42.1%
42.5%
64.6%
33.8%
49.0%
40.5%
40.3%
48.2%
41.5%
19.5%
41.7%
41.1%
  Old unutilised properties
2,180
897
872
3,101
1,419
2,025
1,488
1,151
2,024
1,556
1,649
3,170
3,571
2,633
   Year-on-year basis
520.6%
-75.5%
-32.0%
-47.1%
-34.9%
125.8%
70.6%
-62.9%
42.6%
-23.2%
10.8%
175.4%
76.4%
69.2%
   Sales composition ratio
45.4%
25.3%
35.1%
44.7%
26.4%
54.1%
36.4%
31.6%
45.5%
41.8%
53.3%
74.2%
55.1%
47.9%
  Freehold
1,305
465
106
395
191
46
101
526
315
266
49
157
101
504
   Year-on-year basis
4560.7%
428.4%
92.7%
-74.2%
-85.3%
-90.1%
-4.7%
33.2%
64.9%
478.3%
-51.5%
-70.2%
-67.9%
89.5%
   Sales composition ratio
27.1%
13.1%
4.3%
5.7%
3.6%
1.2%
2.5%
14.5%
7.1%
7.1%
1.6%
3.7%
1.6%
9.2%
  Others
133
117
116
97
96
95
88
94
89
105
112
114
106
96
   Year-on-year basis
21.5%
12.5%
-7.9%
-23.0%
-28.3%
-18.8%
-24.1%
-3.1%
-7.3%
10.5%
27.3%
21.3%
19.1%
-8.6%
   Sales composition ratio
2.8%
3.3%
4.7%
1.4%
1.8%
2.5%
2.2%
2.6%
2.0%
2.8%
3.6%
2.7%
1.6%
1.7%
 Construction business
468
455
343
395
194
309
409
392
222
–
–
–
–
–
  Year-on-year basis
34.1%
19.8%
-24.9%
-30.1%
-58.4%
-32.1%
19.3%
-0.8%
14.0%
–
–
–
–
–
  Sales composition ratio
9.7%
12.8%
13.8%
5.7%
3.6%
8.3%
10.0%
10.8%
5.0%
–
–
–
–
–
[Statements of income]
Net sales
4,807
3,546
2,481
6,938
5,365
3,744
4,089
3,637
4,444
3,721
3,096
4,272
6,486
5,494
Cost of sales
3,865
2,557
1,934
5,431
4,020
2,756
2,945
2,745
3,146
2,310
1,963
3,066
4,320
3,859
Gross profit
942
989
548
1,507
1,344
986
1,143
892
1,297
1,411
1,132
1,206
2,166
1,636
SG&A expenses
792
744
678
925
816
826
805
802
850
946
845
937
1,084
1,097
Operating profit
150
245
-131
382
528
160
338
90
447
466
287
269
1,118
538
Non-operating profit
9
5
51
5
12
8
8
6
7
7
6
7
8
6
Non-operating expenses
55
63
60
10
37
40
34
39
39
55
54
64
80
165
Ordinary income
103
188
-140
298
502
128
311
56
415
417
239
212
1,045
378
Extraordinary income
0
0
0
3
0
0
0
19
0
0
1
–
–
Extraordinary expenses
0
0
0
0
0
8
7
–
–
Loss before income taxes
103
188
-140
298
506
128
311
56
435
399
231
205
1,045
378
Total income taxes
36
72
-49
295
183
48
166
-4
59
60
36
54
361
122
Net income
67
114
-90
176
323
79
145
61
375
338
196
151
683
255
[Balance Sheets]
Current assets
18,816
20,798
20,577
19,040
17,554
17,371
18,769
18,968
19.018
21,579
26,379
27,929
28,392
29,382
Property for sale
14,655
16,923
17,312
14,424
13,493
12,586
13,134
13,301
13,304
15,152
20,775
23,657
24,404
24,623
Non-current assets
1,188
1,164
1,197
1,030
951
1,054
1,081
1,082
1,124
1,099
1,129
1,047
1,233
1,394
Tangible assets
451
449
443
306
291
290
293
301
317
313
314
299
312
529
Investments and other assets
668
653
691
655
595
703
732
730
761
743
769
701
873
817
Total assets
20,004
21,962
21,774
20,071
18,505
18,425
19,849
20,051
20,134
22,678
27,508
28,976
29,626
30,777
Current liabilities
9,883
7,767
7,699
5,772
5,517
7,540
8,633
8,731
8,153
8,871
11,168
12,606
13,658
16,133
Short-term borrowings
7,729
6,352
6,676
4,463
4,272
6,105
7,171
7,367
5,025
5,057
6,960
10,192
11,151
12,198
Non-current liabilities
345
4,303
4,274
4,232
2,919
792
976
1,017
1,525
3,114
5,453
5,314
4,405
2,810
Long-Term Borrowings
3,958
3,929
3,879
2,570
483
683
740
1,260
2,827
5,153
5,033
4,093
2,545
Total liabilities
10,228
12,071
11,973
10,004
8,436
8,332
9,609
9,749
9.679
11,968
16,622
17,920
18,064
18,943
Total net assets
9,776
9,891
9,801
10,067
10,070
10,093
10,240
10,301
10,463
10,692
10,886
11,056
11,561
11,833
Total shareholders' equity
9,776
9,891
9,801
10,067
10,070
10,093
10,240
10,297
10,459
10,688
10,882
11,052
11,562
11,833
Capital stock
818
818
818
818
818
820
820
820
821
822
824
833
860
860
Legal capital reserve
779
779
779
779
779
781
781
781
782
785
786
796
823
824
Retained earnings
8,174
8,289
8,200
8,465
8,577
8,656
8,802
8,863
9,023
9,362
9,557
9,708
10,164
10,419
Stock acquisition right
4
4
4
4
4
4
4
4
4
3
3
3
–
–
Total liabilities and net assets
20,004
21,962
21,774
20,071
18,505
18,425
19,849
20,051
20,134
22,678
27,508
28,976
29,626
30,777
[Statements of cash flows]
Cash flow from operating activities
-3,683
-916
2,110
1,704
1,184
-9,267
911
Loss before income taxes
291
712
635
1,003
833
1,269
1,423
Cash flow from investing activities
-9
-287
-26
-51
-205
-266
-655
Cash flow from financing activities
3,021
952
-2,129
-608
-559
7,971
-56
Net increase in cash and cash equiv.
-671
-251
-46
1,045
420
-1,563
200
Cash and cash equiv. at beginning of period
3,958
3,958
3,707
3,707
4,752
4,752
3,188
Cash and cash equiv. at end of period
3,287
3,707
3,661
4,752
5,173
3,188
3,839
Source: Omega Investment from company materials
Financial data
| | | | | | | | | | | | | |
| --- | --- | --- | --- | --- | --- | --- | --- | --- | --- | --- | --- | --- |
| | 2011/12 | 2012/12 | 2013/12 | 2014/12 | 2015/12 | 2016/12 | 2017/12 | 2018/12 | 2019/12 | 2020/12 | 2021/12 | 2022/12 |
| FY (¥mn) | | | | | | | | | | | | |
| [Statements of income] | 8,042 | 9,475 | 9,187 | 10,443 | 11,567 | 12,300 | 13,098 | 16,833 | 18,020 | 17,774 | 16,836 | 15,533 |
| Net sales | 8.5 | 17.8 | -3.0 | 13.7 | 10.8 | 6.3 | 6.5 | 28.5 | 7.1 | -1.4 | -5.3 | -7.7 |
|  YoY change (%) | 5,557 | 7,061 | 6,254 | 7,055 | 7,798 | 8,344 | 8,566 | 12,028 | 12,902 | 13,788 | 12,467 | 10,485 |
| Cost of sales | 2,485 | 2,415 | 2,934 | 3,389 | 3,769 | 3,957 | 4,532 | 4,805 | 5,119 | 3,986 | 4,368 | 5,047 |
| Gross profit | 1,735 | 1,898 | 2,014 | 2,184 | 2,470 | 2,510 | 2,770 | 3,039 | 3,258 | 3,139 | 3,250 | 3,578 |
| SG&A expenses | 750 | 517 | 920 | 1,205 | 1,300 | 1,446 | 1,762 | 1,766 | 1,861 | 847 | 1,117 | 1,469 |
| Operating profit | 14.5 | 31.0 | 77.9 | 30.9 | 7.9 | 11.3 | 21.9 | 0.2 | 5.4 | -54.5 | 31.9 | 31.5 |
|  YoY change (%) | 9.3 | 5.5 | 10.0 | 11.5 | 11.2 | 11.8 | 13.5 | 10.5 | 10.3 | 4.8 | 6.6 | 9.5 |
|  Operating income margin (%)) | 135 | 5 | 12 | 14 | 15 | 15 | 12 | 28 | 42 | 88 | 34 | 26 |
| Non-operating profit | 138 | 85 | 122 | 174 | 118 | 133 | 106 | 150 | 144 | 226 | 152 | 212 |
| Non-operating expenses | 747 | 437 | 810 | 1,044 | 1,196 | 1,329 | 1,669 | 1,643 | 1,759 | 709 | 999 | 1,283 |
| Ordinary income | 54 | 23 | | | | | 97 | | | 32 | 3 | 20 |
| Extraordinary income | 4 | 17 | | | | | 94 | 104 | | 29 | | 33 |
| Extraordinary expenses | 797 | 443 | 810 | 1,044 | 1,196 | 1,329 | 1,672 | 1,539 | 1,759 | 712 | 1,003 | 1,269 |
| Loss before income taxes | 353 | 209 | 354 | 418 | 472 | 475 | 561 | 533 | 600 | 355 | 394 | 209 |
| Total income taxes | 444 | 233 | 456 | 626 | 724 | 854 | 1,111 | 1,007 | 1,159 | 358 | 609 | 1,060 |
| Net income attributable to owner of parent | 47.6 | 47.5 | 95.4 | 37.5 | 15.6 | 17.9 | 30.2 | -9.4 | 15.1 | -69.1 | 70.5 | 73.9 |
|  YoY change (%) | | | | | | | | | | | | |
| | | | | | | | | | | | | |
| [Balance Sheets] | | | | | | | | | | | | |
| Current assets | 5,251 | 6,257 | 8,023 | 7,836 | 10,366 | 9,749 | 15,874 | 15,745 | 18,094 | 19,040 | 18,968 | 27,929 |
| Property for sale | 3,698 | 4,834 | 6,346 | 5,166 | 7,699 | 6,877 | 11,863 | 11,678 | 13,493 | 14,424 | 13,301 | 23,657 |
| Non-current assets | 834 | 836 | 895 | 957 | 1,031 | 1,083 | 1,042 | 1,032 | 1,199 | 1,030 | 1,082 | 1,047 |
| Tangible assets | 136 | 135 | 569 | 603 | 572 | 591 | 467 | 458 | 456 | 306 | 301 | 299 |
| Investments and other assets | 612 | 622 | 226 | 258 | 383 | 405 | 494 | 505 | 669 | 655 | 730 | 701 |
| Total assets | 6,085 | 7,093 | 8,919 | 8,793 | 11,398 | 10,833 | 16,916 | 16,777 | 19,294 | 20,071 | 20,050 | 28,976 |
| Current liabilities | 2,663 | 3,098 | 4,587 | 3,165 | 4,910 | 3,751 | 8,430 | 6,160 | 9,047 | 5,772 | 8,731 | 12,606 |
| Short-term borrowings | 1,733 | 2,095 | 3,362 | 2,094 | 3,778 | 2,624 | 7,076 | 4,728 | 7,203 | 4,462 | 5,544 | 10,192 |
| Non-current liabilities | 181 | 562 | 465 | 367 | 453 | 226 | 479 | 1,710 | 351 | 4,232 | 1,017 | 5,314 |
| Long-Term Borrowings | 147 | 526 | 419 | 320 | 180 | 88 | 364 | 1,320 | | 3,879 | 740 | 5,033 |
| Total liabilities | 2,845 | 3,660 | 5,051 | 3,531 | 5,363 | 3,977 | 8,909 | 7,869 | 9,399 | 10,004 | 9,748 | 17,920 |
| Total net assets | 3,241 | 3,433 | 3,868 | 5,262 | 6,034 | 6,856 | 8,006 | 8,908 | 9,894 | 10,066 | 10,301 | 11,056 |
| Total shareholders' equity | 3,241 | 3,433 | 3,868 | 5,262 | 6,034 | 6,852 | 8,002 | 8,904 | 9,890 | 10,062 | 10,297 | 11,052 |
| Capital stock | 257 | 257 | 257 | 661 | 710 | 720 | 788 | 811 | 814 | 818 | 820 | 833 |
| Legal capital reserve | 218 | 218 | 218 | 622 | 671 | 681 | 749 | 772 | 775 | 779 | 781 | 796 |
| Retained earnings | 2,766 | 2,958 | 3,393 | 3,978 | 4,654 | 5,451 | 6,464 | 7,320 | 8,302 | 8,465 | 8,863 | 9,708 |
| Stock acquisition right | | | | | | 4 | 4 | 4 | 4 | 4 | 4 | 3 |
| Total liabilities and net assets | 6,085 | 7,093 | 8,919 | 8,793 | 11,398 | 10,833 | 16,916 | 16,777 | 19,294 | 20,071 | 20,050 | 28,976 |
| Equity ratio (%) | 53.3 | 48.4 | 43.4 | 59.8 | 52.9 | 63.3 | 47.3 | 53.1 | 51.3 | 50.1 | 51.4 | 38.1 |
| | | | | | | | | | | | | |
| [Statements of cash flows] | | | | | | | | | | | | |
| Cash flow from operating activities | 970 | -953 | -664 | 1,761 | -1,451 | 1,611 | -3,666 | 1,617 | -420 | -917 | 1,704 | -9,267 |
| Loss before income taxes | 797 | 443 | 810 | 1,044 | 1,196 | 1,329 | 1,672 | 1,539 | 1,759 | 712 | 1,003 | 1,269 |
| Cash flow from investing activities | 127 | -15 | -175 | -111 | -116 | -184 | 107 | -64 | -71 | -288 | -51 | -266 |
| Cash flow from financing activities | -877 | 692 | 1,136 | -612 | 1,588 | -1,278 | 4,667 | -1,495 | 984 | 953 | -608 | 7,971 |
|  Issuance of shares | 406 | | | 800 | 97 | 21 | 37 | 45 | 6 | 9 | | |
| Net increase in cash and cash equiv. | 219 | -276 | 296 | 1,039 | 22 | 150 | 1,108 | 58 | 493 | -251 | 1,045 | -1,563 |
| Cash and cash equiv. at beginning of period | 850 | 1,069 | 793 | 1,089 | 2,128 | 2,150 | 2,299 | 3,407 | 3,465 | 3,959 | 3,707 | 4,752 |
| Cash and cash equiv. at end of period | 1,069 | 793 | 1,089 | 2,128 | 2,150 | 2,299 | 3,407 | 3,465 | 3,959 | 3,707 | 4,752 | 3,188 |
| Free cash flow | 1,097 | -968 | -839 | 1,650 | -1,567 | 1,427 | -3,559 | 1,553 | -491 | -1,205 | 1,653 | -9,533 |
Source: Omega Investment from company materials