Market Capitalization
105,589 million yen
Profile
Biotechnology company engaged in research, development, production and sales of microalgae. In recent years, the company has been focusing on the practical application of bio-jet fuel using microalgae green beetles while selling food and cosmetics. It operates in the Healthcare, Biofuels and Other segments.
Stock Hunter's View
The most preeminent candidate to play 'decarbonisation of the skies', with a tailwind of commercialisation in 2025.
The commercialisation of biofuels produced by euglena, the company behind the domestically produced SAF (recycled aviation fuel) "SUSTEO", which is derived from the euglena (freshwater flagellate, green beetle), is becoming increasingly realistic.
The Government of Japan has announced its intention to oblige oil wholesalers to use SAF for 10% of international aviation fuel refuelled in Japan from 2030. An action plan will be compiled by the end of this year on how to increase the proportion of SAF feedstock procured domestically and is expected to include improved support for capital investment.
SAF is attracting global attention as a key means of decarbonising the aviation industry, and the World Economic Forum's Clean Skies for Tomorrow Coalition, a gathering of major airlines, has set a target to increase the share of SAF in aviation fuel to 10% by CY2030.
Euglena plans to build a commercial plant in Malaysia, aiming for completion in 2025, with a final investment decision to be made this year. If the company can secure its 30% market share target, it is expected to have a revenue potential of more than 50 billion yen in sales and EBITDA of more than 10 billion yen. The company is expanding and diversifying its biofuel supply sources through demonstrations in all land, sea and air areas. It is steadily building up a track record, with a total of 75 biofuel supply sources (based on the number of companies and organisations) having already introduced the system.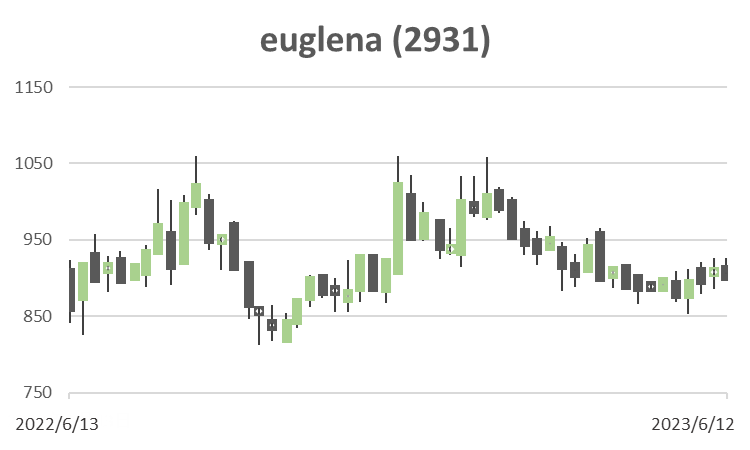 Investor's View
AVOID.
If the company's market capitalisation of 100 billion yen factors in a PER of 50 times, the implied net income would be 2 billion yen. However, the likelihood or time span of achieving this is not reasonably predictable. The cash acquisition of Qsai Co., Ltd. from Advantage Partners and Tokyo Century Corp (TSE 8439) for 8.9 billion yen in May 2021 has boosted sales and reduced losses. However, the BS recorded 26.2 billion yen of broad-based goodwill. Current intangible assets account for 52% of total assets. This is an outstandingly high ratio among listed Japanese equities. As of FY2022, goodwill and customer-related assets were recorded as 12.5 billion yen and 17.5 billion yen on the BS under purchase price allocation (PPA). The determination of indications of impairment on these intangible assets is left to the company and the auditor, and valuations are not possible for investors who are not insiders. Judging whether a PBR of just under 5x is sensible is difficult.
The share price has been moving in a range of 600-1,000 yen since the beginning of CY2019. The business is not predictable, and equities trading is considered speculative. Investors have known for some time that the company is involved in biofuels and that the outlook is gradually opening up. The share price has not reacted well to the government's SAF mandate, presumably because there is domestic and international competition in addition to the uncertain impact on business performance, and investors are looking for a more convincing picture of the company's future growth.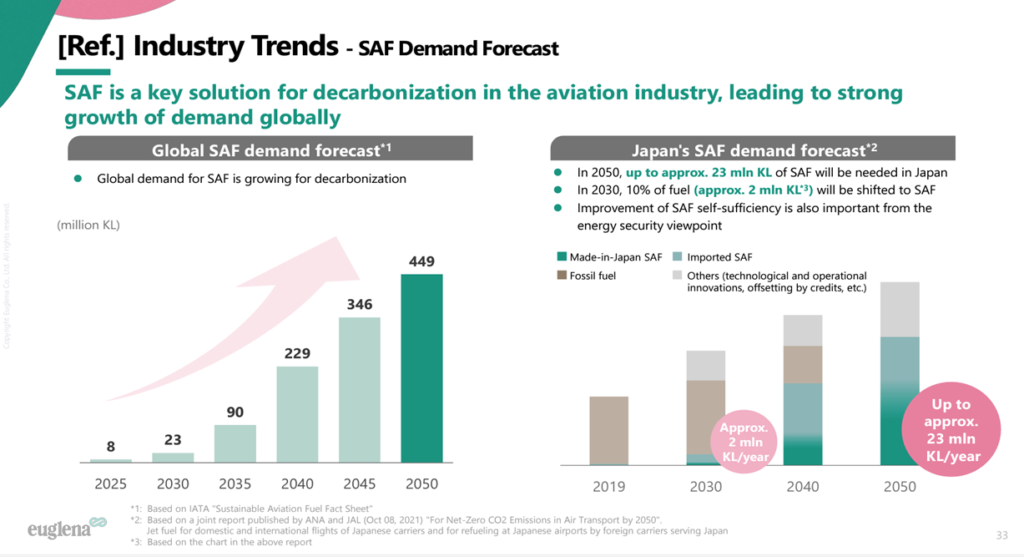 Company material
The institutional investors own 14.8% of the company, dominated by ETFs that account for 11.6% of the outstanding shares. Other than insiders, including PE and VC, the impression is that only some institutional investors have included the company in their portfolios with great confidence. Nonetheless, the short-term is newsflow positive as the final investment decision on constructing the commercial plant in Malaysia will be made later this year. Management expects an EBITDA potential of 10 billion yen, but the key driver of the share price is EPS.