Market Capitalization
263,791

million yen
Scoreboard
| | | | | | |
| --- | --- | --- | --- | --- | --- |
| Discovery | Development | Capital | Impact | Overall | Quartile |
| 3.4 | 3.9 | 4.3 | 3.2 | 3.8 | 1 |
Company Profile
PeptiDream Inc. is a leading peptide-based biopharmaceutical company founded in 2006. We employ PDPS (Peptide Discovery Platform System), a proprietary state-of-the-art highly versatile discovery platform, to produce a highly diverse (trillions) non-standard constrained/macrocyclic peptides library with high efficiency, and identify highly potent selective hit candidates. We develop these into peptide therapeutics, Peptide Drug Conjugates (PDCs) and small molecule therapeutics.
Core Technology
Our proprietary PDPS is mainly composed of three technologies: Flexizyme, Flexible In-vitro Translation (FIT) system, and RAPID (RAndom Peptide Integrated Discovery) display system.
PDPS (Peptide Discovery Platform System)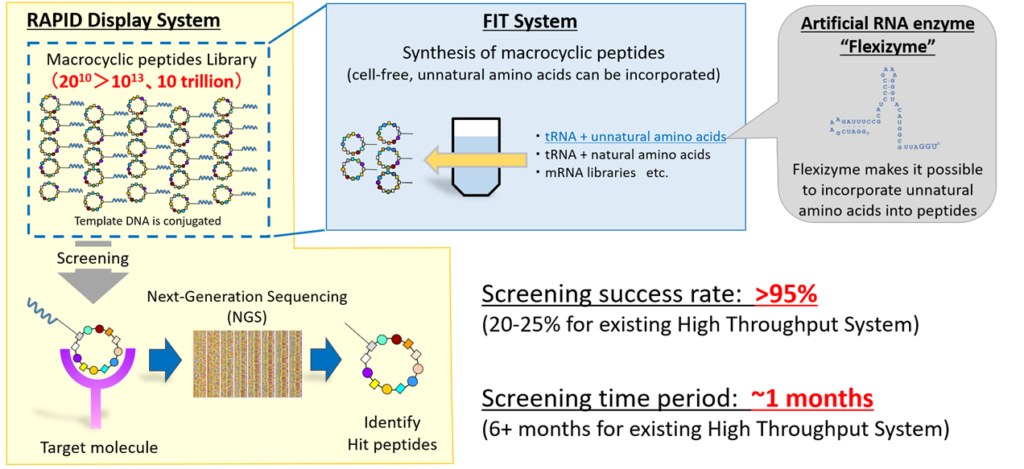 Three Drug Discovery Approaches

 Active pipeline
PeptiDream is promoting more than 100 research and development programs, including in-house programs and collaboration programs with partners.
See the following table of main programs.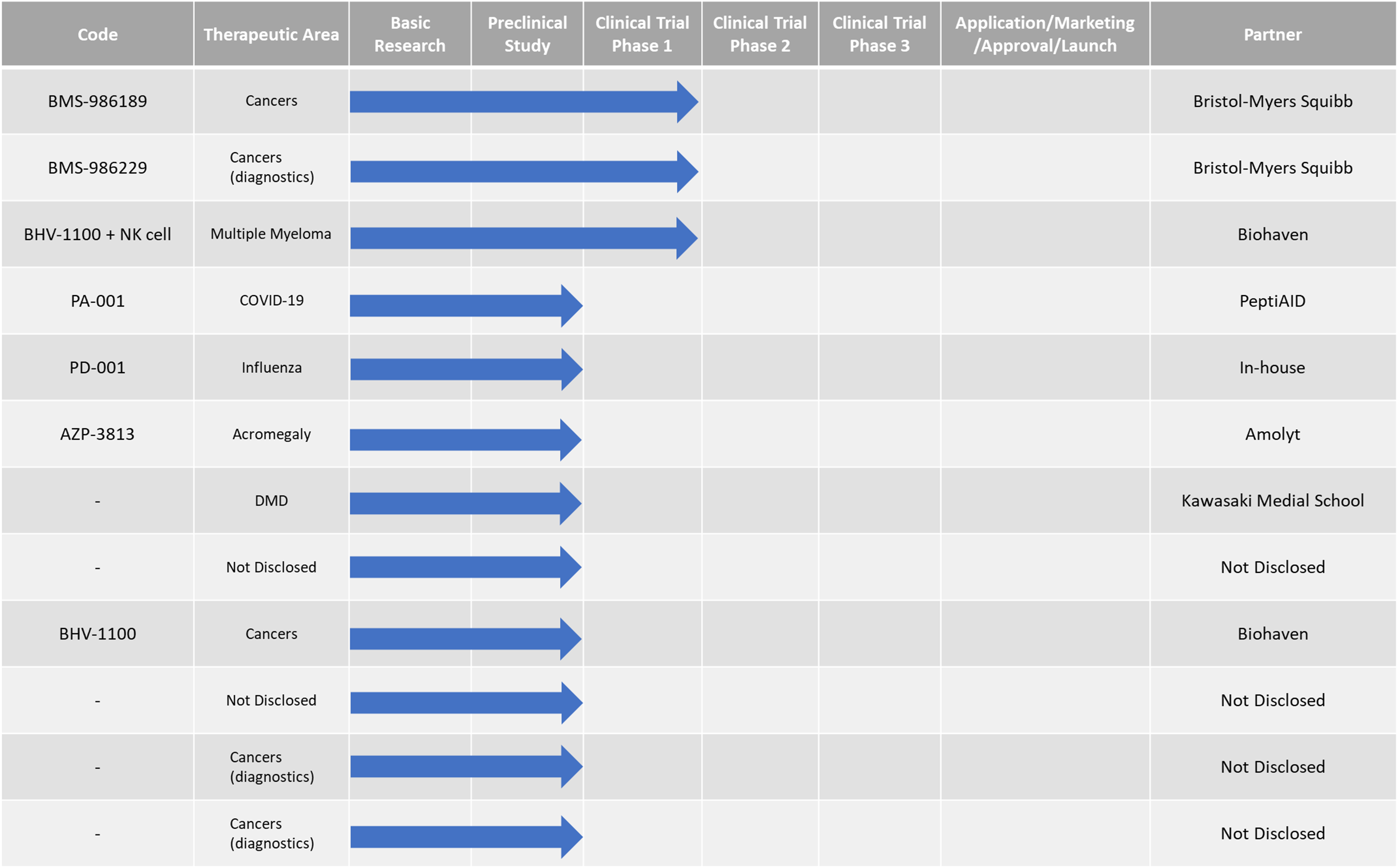 BMS-986189
(PD-L1 inhibiting peptide:
 Cancer immunotherapy)

BMS-986189 inhibits the mechanism by which cancer cells suppresses the immune system (immune checkpoint), thus cancelling immune suppression and strengthening the antitumor immune response. Phase 1 (intravenous injection) was completed in December 2016, with favorable data on safety and pharmacokinetics.
(ClinicalTrials.gov Identifier: NCT02739373)
An analog of BMS-986189 (new identifier to be issued) is planned to enter clinical in early 2022.

BMS-986229
(18F indicator PD-L1 inhibiting peptide:Diagnostic drug)

Detecting the 18F signal by PET (Positron Emission Tomography) enables confirmation of PD-1/PD-L1 positives and negatives, making it possible to ascertain whether immune checkpoint inhibitors are effective for the patient (companion diagnostics).
(ClinicalTrials.gov Identifier: NCT04161781)

BHV-1100(CD38-ARMTM)+NK cells
(Cancer immunotherapy)

BHV-1100 is a new cancer immunotherapy for multiple myeloma that combines Biohaven's proprietary ARMTM technology with CD38 targeted-peptide (PeptiDream origin). BHV-1100 targets the destruction of CD38-expressing cells in combination with autologous cytokine induced memory-like NK cells and immune globulin in newly diagnosed multiple myeloma who have tested positive for minimal residual disease (MRD+) in first remission prior to autologous stem cell transplant (ASCT).
Phase1a/1b has started in October 2021.
(ClinicalTrials.gov Identifier: NCT04634435)

PA-001 (Treatment of COVID-19)

PA-001 is based on a constrained cyclic peptide which was originally identified in the early drug discovery of PeptiDream, and since then, optimized and selected by PeptiAID (affiliate of PeptiDream) as compound that shows high potent antiviral activity against SARS-CoV-2.
Clinical research has started in February 2022.
(jRCT (Japan Registry of Clinical Trials) Trial ID: jRCTs031210601)