Market Capitalization
13,391

million yen
Scoreboard
| | | | | | |
| --- | --- | --- | --- | --- | --- |
| Discovery | Development | Capital | Impact | Overall | Quartile |
| 2.6 | 2.0 | 2.0 | 2.2 | 2.1 | 2 |
Company profile
On 1 July 2021, we renamed ourselves Kidswell Bio Corporation (formerly Gene Techno Science Inc.). In addition to the biosimilars and new biotech business, we focuse on the regenerative medicine business using stem cell from human exfoliated deciduous teeth (SHED), based on the philosophy of "Kids Well, All Well".
Core technology
New biotech business (regenerative medicine/cell therapy)
Research is being mainly conducted on three diseases of the bone and nervous system (cerebral palsy, spinal cord injury and intractable fractures) that have an affinity with the differentiation potential of SHED (Stem cell from human exfoliated deciduous teeth), and is currently being actively licensed out to pharmaceutical companies, in parallel with basic research.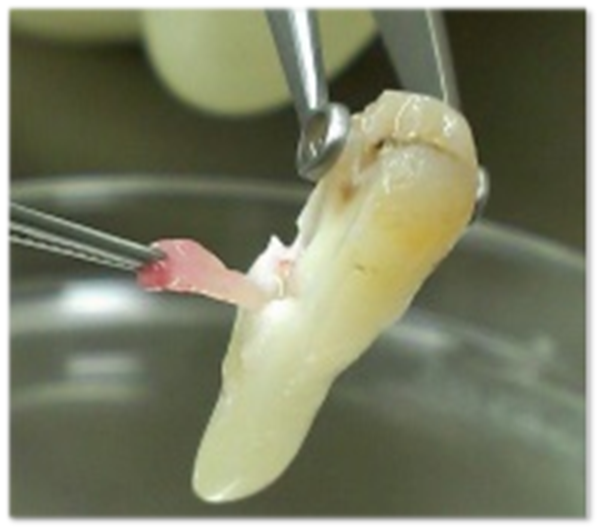 SHED: Stem cell from Human Exfoliated Deciduous teeth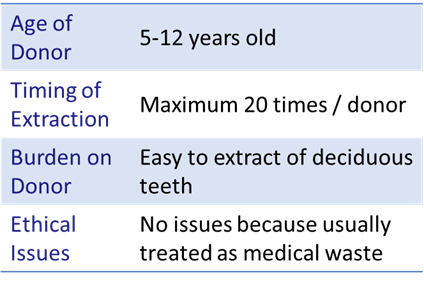 Compared to mesenchymal stem cells (derived from the spinal cord), SHED has a higher proliferative and bone regenerative capacity.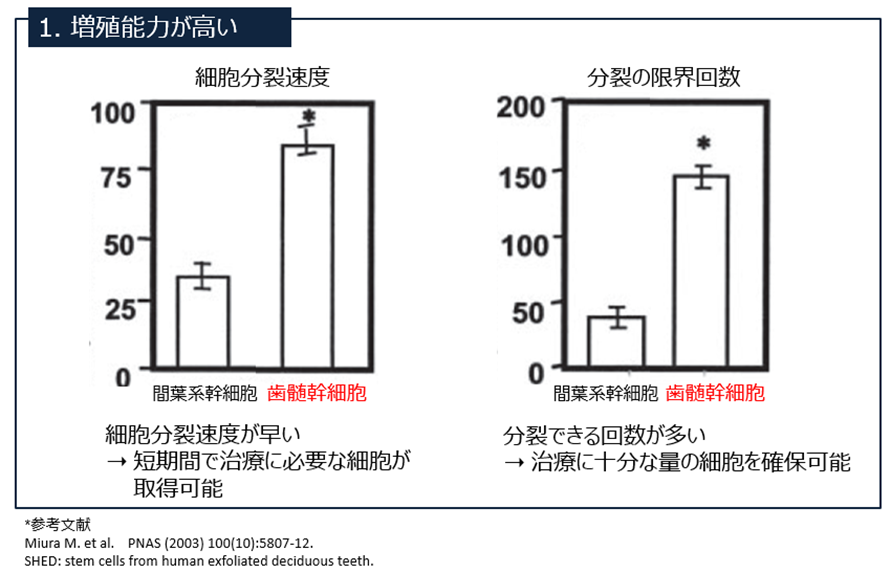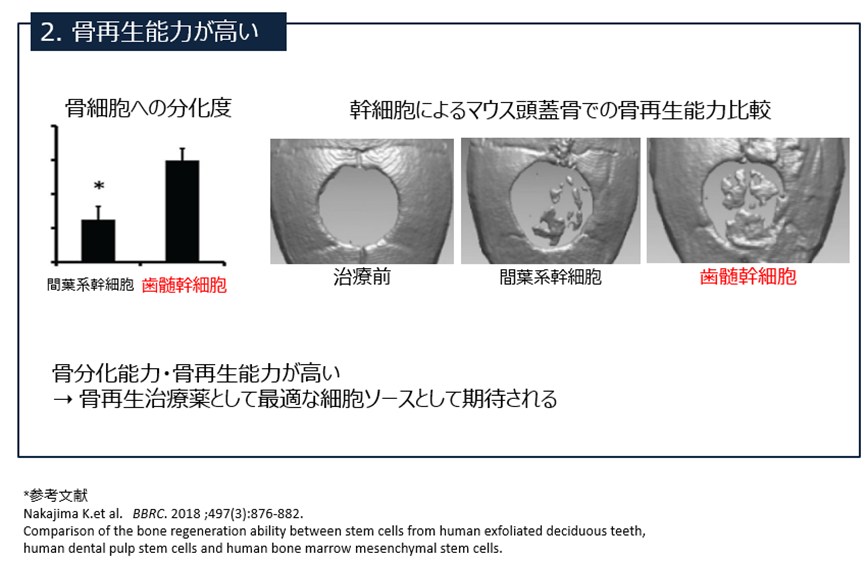 Major pulp stem cell projects.
Target disease
Partner
Symptoms
Treatment
Number of patients
Therapy targets
Cerebral palsy (children)
Nagoya University,
Tokyo Medical and Dental University.
Quadriplegia
Unestablished
Newborn baby
2,000 persons/year
Nerve and vascular regeneration
Spinal cord injury
Nagoya University
Loss of motor/
sensory perceptual function
Unestablished
5,000 persons/year,
100,000 persons
Nerve regeneration
Intractable fracture
Hokkaido University
Centre for General Injury
Chronic pain, gait disturbance
Surgery
100,000 persons/year
Bone regeneration
In March 2020, the Ministry of Economy, Trade and Industry (METI) published the Guidance on the Supply of Human (Allogeneic) Cell Raw Materials (First Edition). Based on these guidelines, we established a series of systems from donor registration, whereby donors provide milk teeth, to the cultivation of SHEDs and the production of intermediate products (Master Cell Bank (MCB)) that will become raw materials for regenerative medicine products.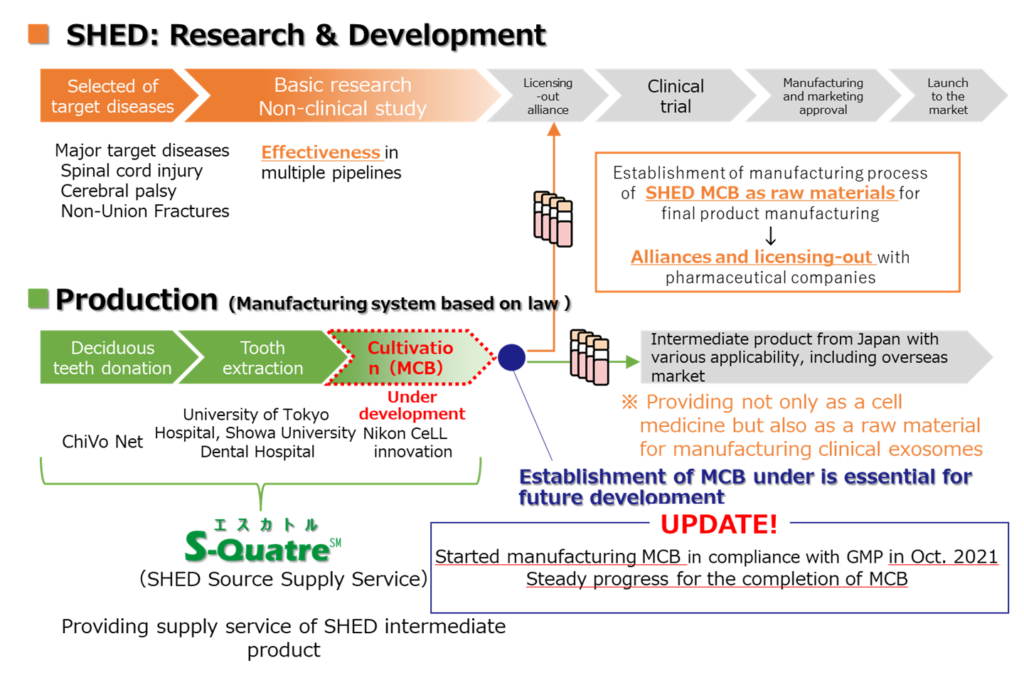 In addition, we are working on 'designer cells', a next-generation cellular medicine based on SHED that adds new functions to existing cellular drugs to enhance therapeutic effects, such as 'higher therapeutic efficacy' and 'enhanced directionality to facilitate delivery of cells to the disease site'. Designer cells are attracting attention as a next-generation cellular medicine for diseases that are difficult to cure.
As a specific initiative, in September 2021, we signed a joint research agreement on developing an efficient mRNA-based gene delivery method for SHED and the validation of gene delivery SHED by combining gene delivery technology utilising nanomicelles owned by NanoCarrier Co., Ltd. and SHED. Furthermore, in December 2021, we signed a contract to develop a new culture method that enables the acquisition of disease-directed SHEDs by combining the culture medium development technology owned by BioMimetics Sympathies Inc. with this SHED. The 'designer cell' initiative is steadily progressing.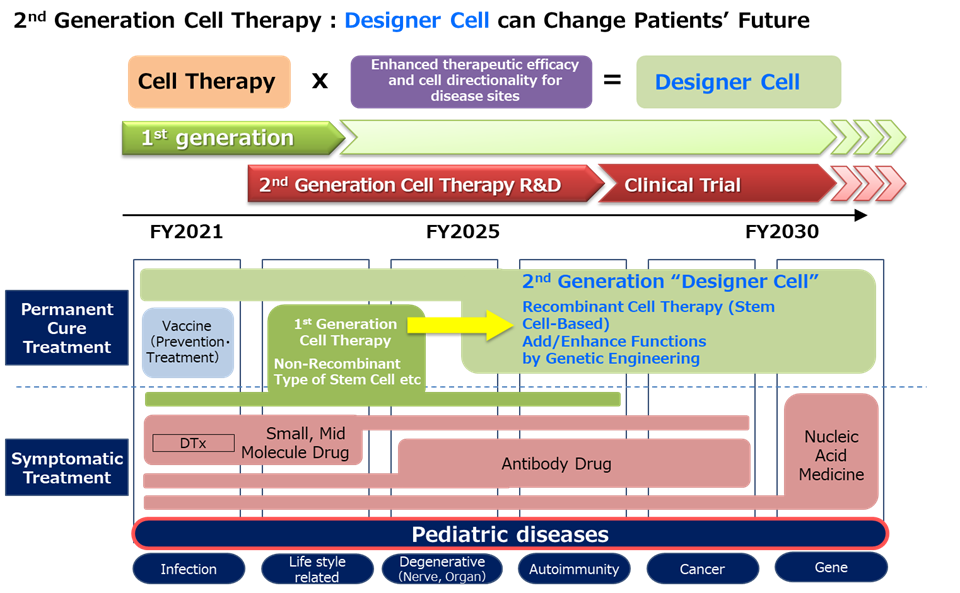 Biosimilar
Three products were launched by December 2021, with a view to launching another product by FY2025. Ranibizumab BS, launched in December 2021, is the first biotech follow-on for ophthalmic VEGF inhibitors and is expected to become a new treatment option for retinal diseases.
Active pipeline
New biotech business (regenerative medicine/cell therapy)

We aim to partner the pipeline in cerebral palsy, spinal cord injury and intractable fractures by FY2025.
Biosimilar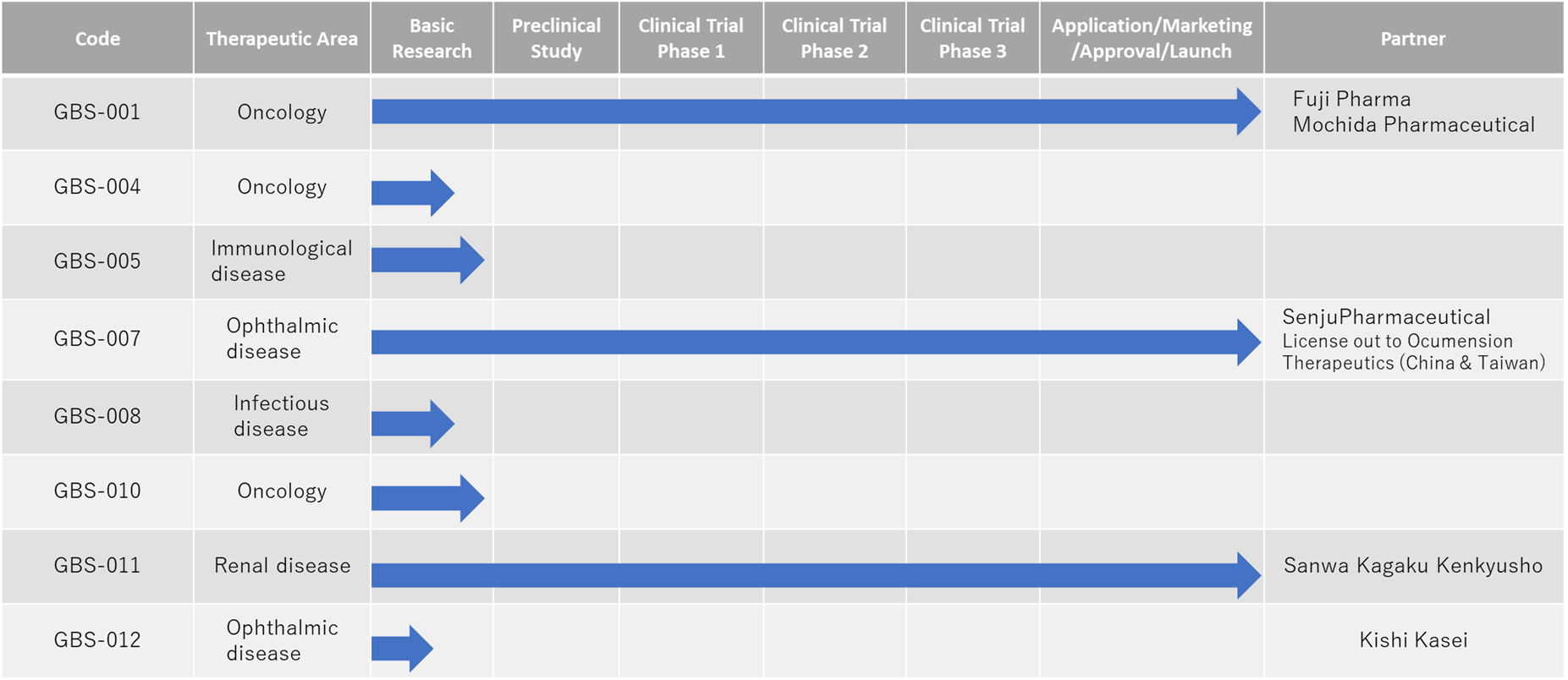 In December 2021, we launched ranibizumab (our development number: GBS-007), a follow-on biotech product for ophthalmology. We plan to launch the fourth product by FY2025.